We're Committed To Our Community
We live here and we're committed to being here for our community.
We know these are challenging times for some of our neighbors. Inver Grove Mitsubishi is making a donation for every vehicle sold in June!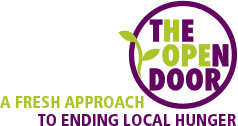 The Open Door—with the support of the community—is able to assist thousands of local individuals each month through a variety of programs designed to connect those in need with fresh, nutritious options:
Healthy food support at our Pantry, 31 Mobile Pantry® sites, and The Mobile Lunch Box, provided to more than 14,000 individuals each month.
Garden To Table® program: 200+ community garden plots, orchards, and perennial gardens, allows families to grow the food their family needs, free of charge.